Industry solution supporting smart city administration in the field of public lighting management.
What you cannot measure,
you cannot manage.
Mobile app for Smart City EMA+

It is used for entry, implementation and evaluation of maintenance and repair requests by field technicians and effective remote management of work from anywhere.
Request entry

Fast and comfortable directly in the field using voice commands or QR code.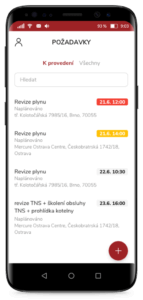 Overviews of tasks

For a given day and worker, implementation states, monitoring of selected KPIs.
Request implementation
According to defined procedures, including time records, resources and subtasks.
User accounts
To view only those tasks that the technician is to implement.
Offline and voice mode
For convenient use of the application even in places without signal, even by voice.
Messages and notifications
Reporting new tasks, request statuses, and more important information.
Serves for entry of readings in the field, finds out basic information about the intake, incident recording options, and intake notes. Electricity, water, gas or heat, Ema can work with all common kinds of energy.
Meter management
Administration of meters in buildings and their general and technical parameters. One can add an unlimited number of meters to each building.
Readings
Quickly and reliably by reading the barcode or QR code.
Overviews

Detailed overviews of consumption according to time, place or energy kind.
User accounts
Management of only those buildings, consumption locations, and meters that the worker needs. 
Off-line mode
Convenient use of the application even in places without signal.
Notifications
Reporting of tasks, changes, incidents, and other important information.
Ing. Michal Tesařík, MBA
+420 724 444 451
tescosw@tescosw.cz
tř. Kosmonautů 1288/1, Olomouc
tel. 587 333 405
info@tescosw.cz
www.tescosw.cz